Books
Open Spaces
"Open Spaces" celebrates the passionate work of scratchboard artist Cathie Bleck. Recognized throughout the country, Cathie introduces a new collection that features her fluid and multi-dimensional style of story telling  . "Open Spaces" is an artist signed, high-quality edition that archives one of today's finest. "Open Spaces" is in the collections of The Library of Congress and The Victoria and Albert Museum.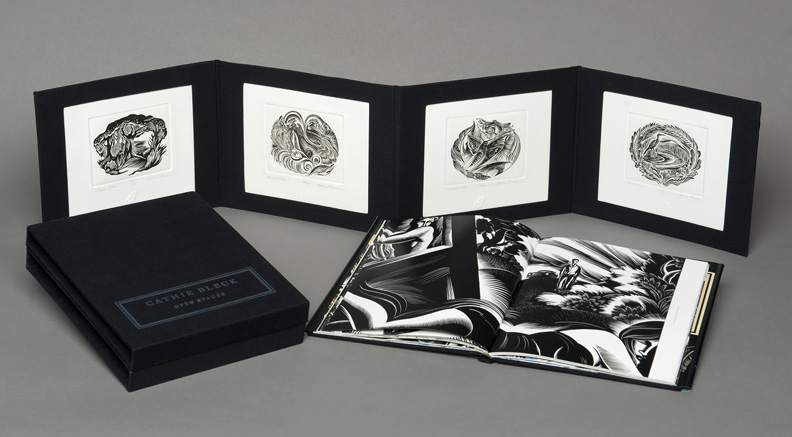 Collector's Edition includes a linen slipcase and etchings (see below for options available from the artist)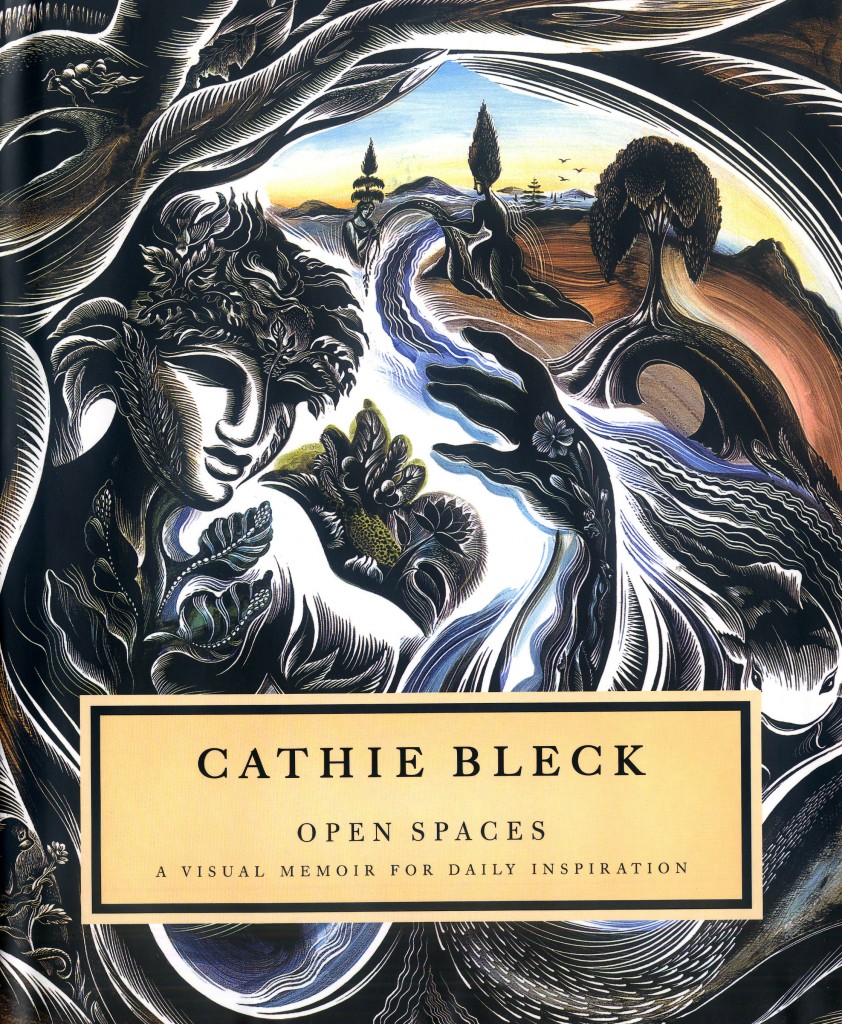 Sample Layouts :
"The relationship of dark and light is the recurring theme in life and art. Cathie Bleck's work embraces this theme and demonstrates the nature of this conversation in an elegant and expressive way. — Milton Glaser—
Book Highlights
7 ½" x 9 ¼ : Black cloth hard cover with embossing on front and spine wrapped in full color dust jacket featuring 4 images and 5 quotes
printed on archival paper featuring 80 images over 96 pages
text written by John P. Avalon, Neil Archer Roan, Stephen Post and Milton Glaser
designed and published by Mark Murphy/Murphy Design
Prices
Email bleckcathie@gmail.com to receive Open Spaces directly from the artist Cathie Bleck with a personalized message

 ORDER  the book

Collector's limited edition books, with black linen slipcase and etchings available from the artist. Email the artist at bleckcathie@gmail.com
Two offerings:
$145.00 includes book, slipcase and one etching
$500.00 includes book, slipcase and four etchings
ISBN 0-9748032-9-4 distributed by Murphy Design
PREMIER Release / limited edition of 3000
---
Excerpt from "Open Spaces"
+++
American Mystical
John P. Avalon

What is more American than the concept of open space?
In today's cities and suburban subdivisions it is easy to lose sight of the frontier perspective, but somehow the pioneering spirit lives on slumbering inside of us with its sense of opportunity, danger and open possibilities. The artwork of Cathie Bleck takes sinuous lines of ink on clay-board and casts them into the wilderness with this essential American character intact.

There is a timeless quality to her work: it is the magical realism of myth, a loving look at nature. These are the stories of animal spirits and striving young souls struggling to find their way through the dark guided by instinct, newly engaged in a world familiar yet strange.

The characters in Cathie Bleck's artwork, like the artist herself, seem to find comfort amid chaos. "You don't build limiting parameters around yourself," Cathie says. "How you look at a situation helps you surmount it."

Myths resonate beyond time and place. And yet, with a worldly wink, there is something endearingly American about Cathie Bleck's art. There is the integrity of Eric Thake's classic drawings from early editions of "Moby Dick," the moral clarity of Rockwell Kent, and the echoes of Thomas Hart Benton's apparently simpler America, populated by pastoral heroes.

These pages offer the reader a chance to rediscover the wonder of the
pioneering spirit. It is, for us, primarily an internal journey—but ultimately no less expansive because of that fact. We have engaged with the eternal by communing with details like spindly tree limbs highlighted by moonlight and an animal's reassuring eye. There is the majesty of the woods and the sea, appreciation followed by the blessing of self-transcendence.

Cathie Bleck's artwork expresses this quest, as she brings indelible
figures to life with a flick of her wrist. Her drawings are all character and momentum animated by a generosity of spirit: smiling eyes and jutting jaws, hands outstretched and woods explored, where the redemption of open space is found at the end. The cumulative effect stretches beyond a single sense, and is perhaps best expressed by the words of the poet, T.S. Elliott:

We shall not cease from exploration
And the end of all our exploring
Will be to arrive where we started
And know the place for the first time.

Through the unknown, remembered gate
When the last of earth left to discover
Is that which was the beginning;
At the source of the longest river
The voice of the hidden waterfall
And the children in the apple-tree
Not known, because not looked for
But heard, half-heard, in the stillness
Between two waves of the sea.