New Print Release :: Stone Lithographs
Available in a very limited Edition of 20 :: $450. 
Printed on Rives BFK Off White, Artist signed, numbered and stamped/chop by Master Printer, Karen Beckwith TMP
Allow 1-2 weeks for shipping via Fed Ex Ground, securely packaged.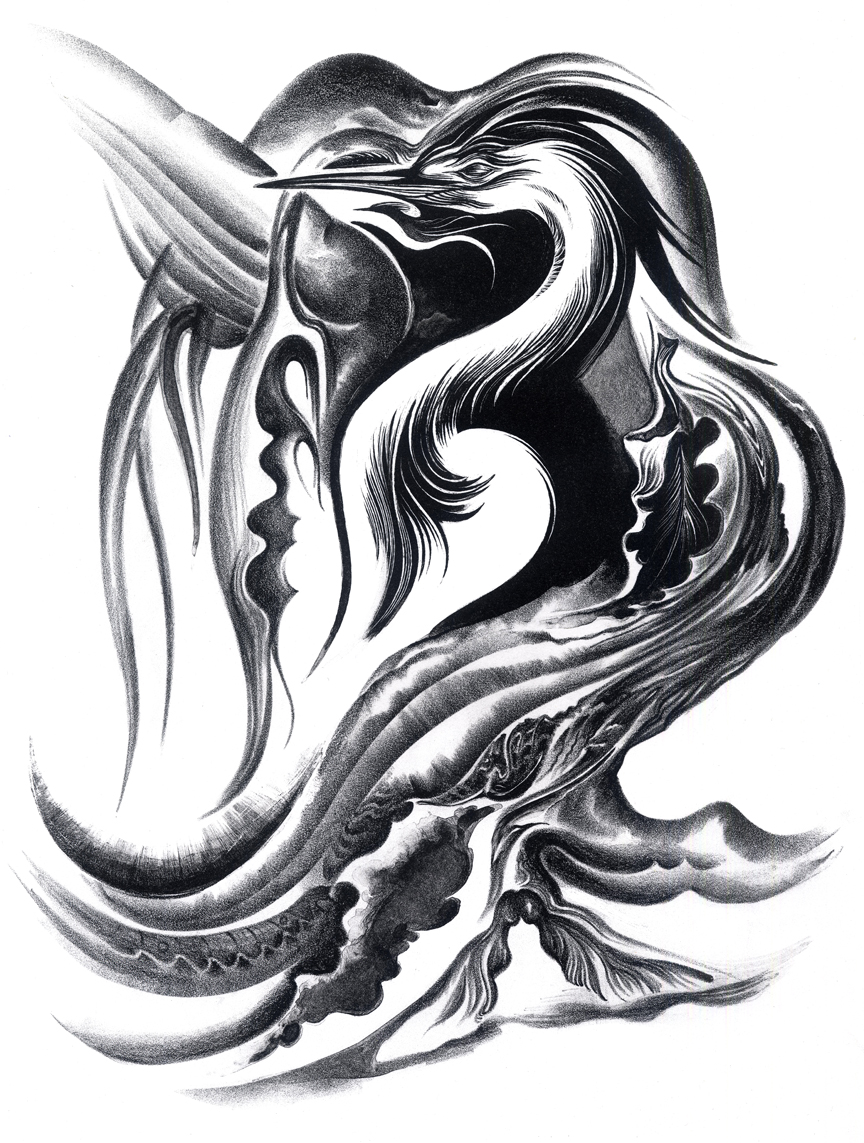 PURCHASE :: "The Rescue" (Heron)

LITHOGRAPHS ::  "The Chamber" (Owl) and "The Rescue" (Heron) were generated on one run.  Working on a limestone slab with Korns pencil, crayon and Charbonelle high grade tusche  in a Limited Edition of 20.  Additionally a Bon a Tirer of 1,CIA Archive Proofs of 2, Printer's Proof of 0,  Artist Proofs of 2, on Rives BFK Off White, Artist signed, numbered and stamped/chop by Tamarind Institute trained Master Printer, Karen Beckwith TMP
Dimensions: The images are 11″x14″  with a 2″ border on 18″ x 15″ with deckled edges
+ If you are interested in PURCHASING these exclusive and small editions at  $450. EACH (see Paypal link next to images)

For further questions or acquisitions of these Lithographs please email Karen Beckwith at lithogds@yahoo.com or 216.280.6109. Since it is the holidays, if you have difficulty reaching Karen, please feel free to email cb@cathiebleck.com as well. (click on images to enlarge)
DETAILS ::
Public  lecture on Wed. November 20th at 2 PM at Aikins Auditorium at The Cleveland Institute of Art and the prints will be on display.

PRINTMAKING RESIDENCY @ CIA
I was invited to collaborate as an artist in residence with The Cleveland Institute of Art's  printmaking dept. CIA is  of the finest art schools in the country known for their comprehensive program and master teachers. It was a rare opportunity to work in the historic practice of stone lithography in the company of such excellence and perfection.  An edition of 20 will be released and available for acquisition by December 3rd.
I began my long awaited residency in the Print Department of the Cleveland Institute of Art about 2 weeks ago, working alongside the director of the department, artist Maggie Denk and working closely with Master Printer and artist Karen Beckwith (who trained at the well respected Tamarind Institute in NM – she will be printing the edition).  This collaboration of working with such talented and skillful print makers in such an amazing facility in the company of students has been a very rewarding exchange thus far.  I remember learning stone lithography in college, but never remember having the kind of attention these two teachers give their students.  The first day Karen Beckwith prepared two stones for me to practice on.  Prepping the stones, or graining is something that requires skill, muscles and patience.  It must be done in a way that the surface of the stone remains perfectly level for optimum printing.  Here is a video clip of Maggie in action as she instructs a student on the task.  You can find out more on the elaborate process of lithography  here.
VIDEO :: Maggie Denk preparing the stone for drawing and printing surface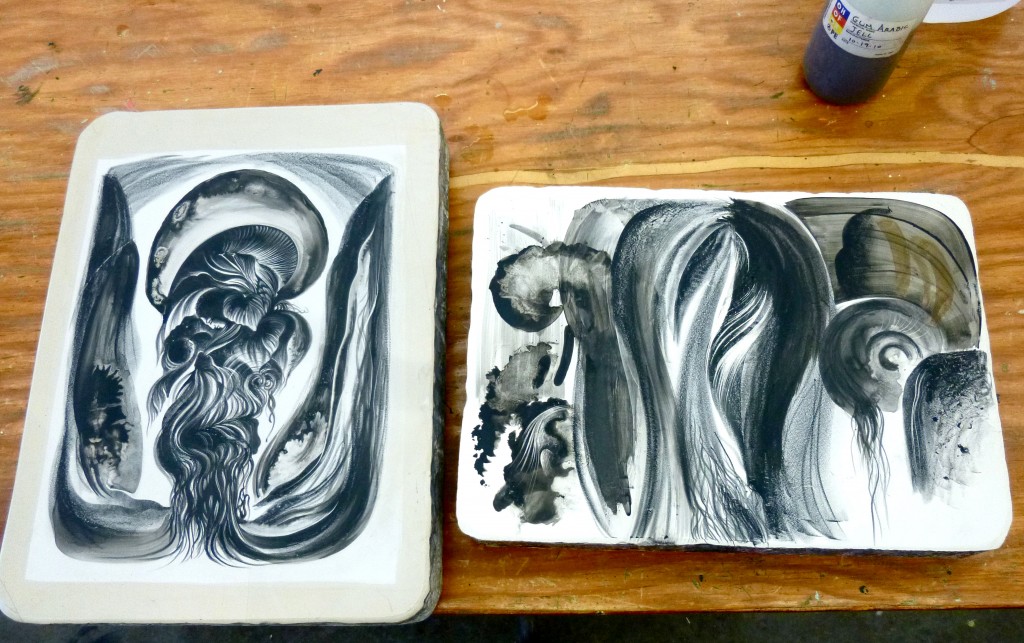 The above are my experiments with tusche (Lithographic drawing ink which is a combination of grease, soaps and pigment) as well as using the litho crayon which picks up the grainy surface of the stone, something that I have an affection for even though I loved carving through the blackness of the tusche, mimicing strokes in my work, but ultimately was seduced by the marks one can only pick up from the grain of the litho stone-the most perfect surface for drawing.  Below are marks that Karen prepares and etches after observing my marks on the practice stone.  She uses this for a guide so she is able to capture the correct density in the drawing.  Also posted a few movies to get an idea of this tedious yet thrilling process.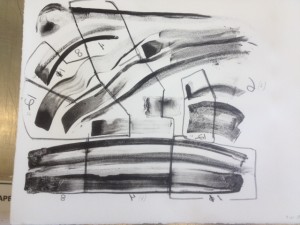 Below : In the studio, I discovered Karen Beckwith's incredible work while she was about to erase it from the stone (see image below which you can enlarge to see detail by clicking once on image)  Those clouds especially inspired me as I put my crayon to stone, had to find an area to create some smoke! Karen's print (on the stone below) won an award from the MAPC (midAmerica Print Council) and will be on exhibition in Denver at Banshee Press, so check it out if you find yourself in Denver, CO this winter.  Otherwise, you can catch her pretty much everyday doing demos for students or working on press.
Maggie Denk chairs the departement of printmaking at CIA and has been teaching over 15 years-a woman  that gets things done while producing exquisite work and mentoring one on one with the students.  Took a quick snapshot of her work in the faculty show currently on view across from The Cleveland Museum of Art @ Reinburger Gallery
This week I spent 2 days completing the image for my first edition.  The title is "The Chamber".  Here are some early progressions on the stone under the observation of Karen Beckwith-a real  honor to be collaborating with her!  You can view some reference nearby (I create a rather large wave of reference around me- I am very messy when I work so Karen kept her eye on me making sure I did not touch the stone with the oil from my skin and set me up with some tracing paper under my hand while I worked).  You can see the  Onyx conte tracing in red I made from my sketch which will not print in the finish-it only serves as a guide.  Below on right is Karen on press. We worked together pulling "The Rescue" I kept the stone wet constantly in the all day process of inking and printing each print.  Only the best prints make it into the edition, in this case 20, 2 Artists proofs, a BAT print, and 2 that remain at CIA, 25 in total.  The rest are destroyed as well as the image on the stone.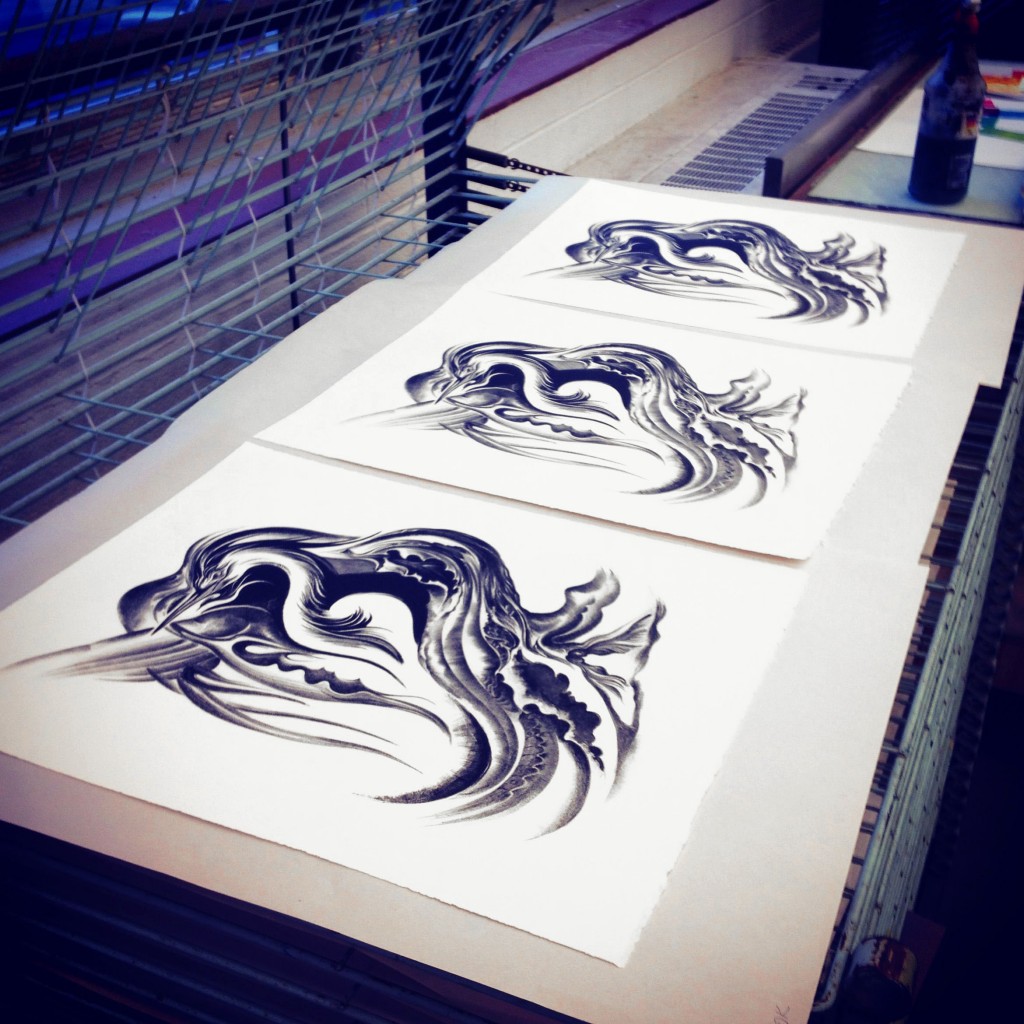 DETAILS FROM THE DRAWING ON LIMESTONE SLAB :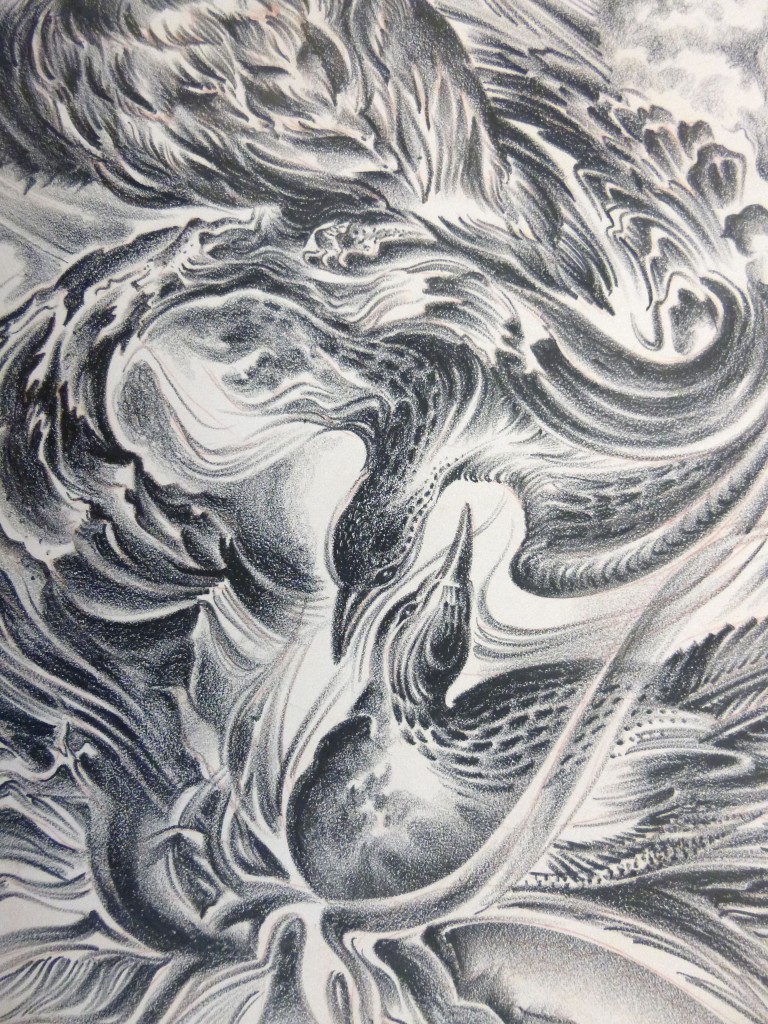 "The Chamber" drawing on the stone.
The drawing is completed and ready to be prepared for a printing proof. Karen masked the edge of the stone to avoid me marking it up as I drew.  I held tracing paper over the stone so as to not touch the stone with imperfections caused by my touching the stone.  The image is created in reverse.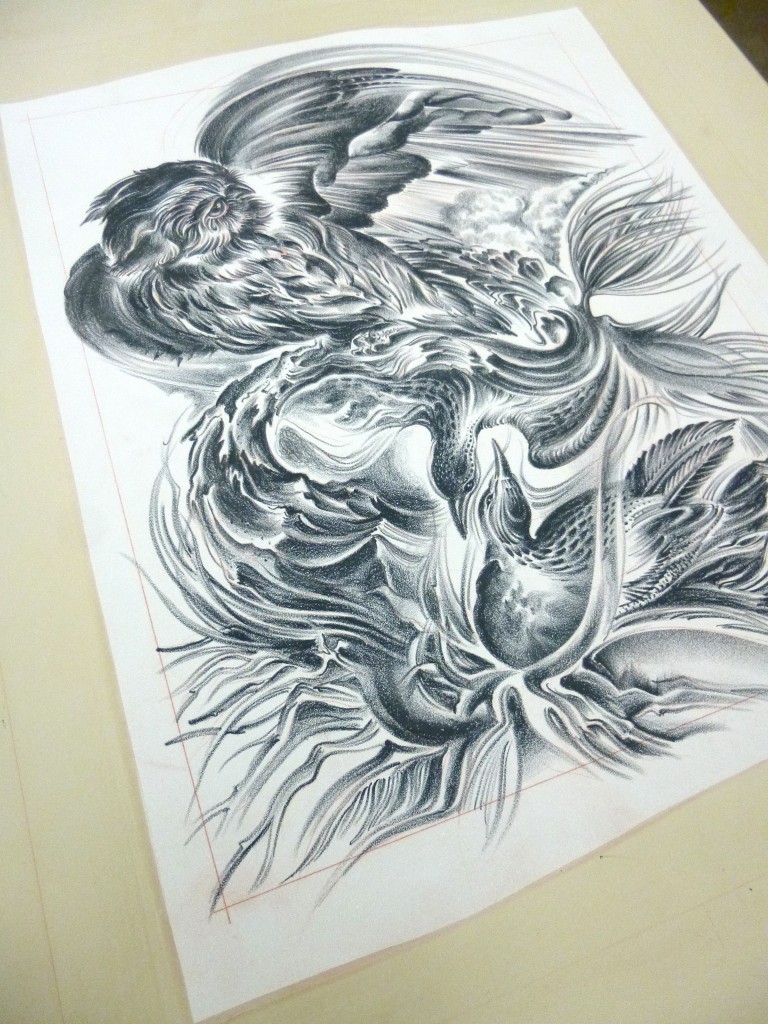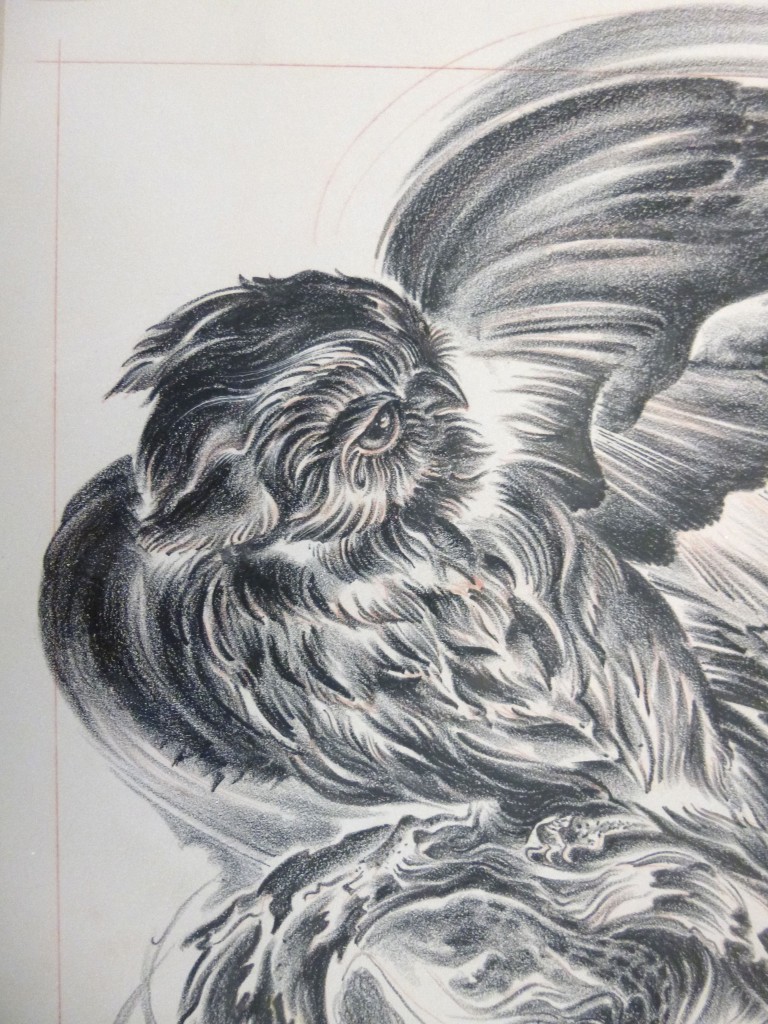 This image was inspired by the piece "Through the Wing" Inks, clay on papyrus from my frAGILITY series in Chicago @ Packer Schopf Gallery Nov through Dec. 2013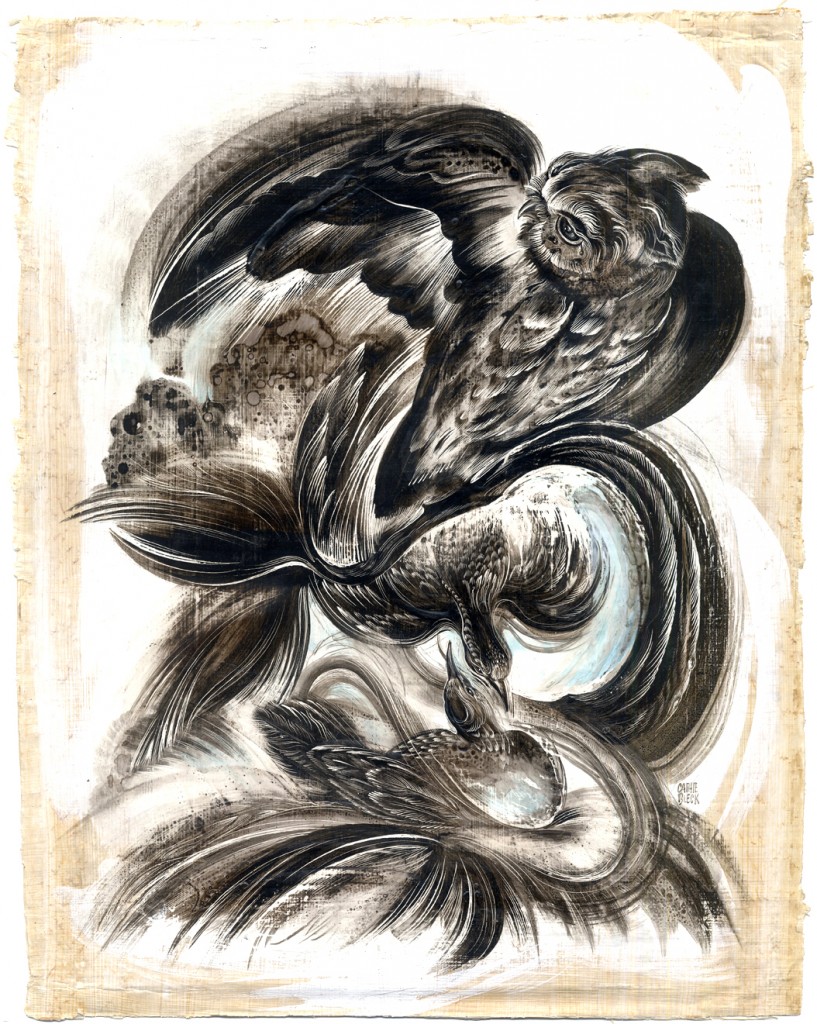 Leave a Reply